Keep your Trick-or-Treaters Safe
Dusk, dawn and dark hours increase the risk for an auto-pedestrian crash. Drivers always keep an eye out for pedestrians. Pedestrians make sure you wear reflective gear and/or lights when out at dusk, dawn and night.
When crossing the street make eye contact with drivers, make sure they know you are there before entering a roadway

Distracted walking is just as dangerous as distracted driving – pay attention to where you are going, especially when crossing a roadway

Look left, right and left again before crossing

NEVER ASSUME RIGHT OF WAY, it does not mean you are safe

Be noticed, wear reflective gear at night

Do not let small children (10 and under) cross the street alone

Do not cross an intersection diagonally, unless it is specifically designed for this

Crosswalks exist at any intersection, whether there are pavement markings or not

Must walk on the left side of the street facing traffic if no sidewalk is available
Look for pedestrians and expect them to be at corners and intersections Always stop for a pedestrian, even if you are in the right of way

Slow down, stop on red, and look around before turning on a green

Never pass a car that has stopped in a travel lane until it is determined whether that vehicle has stopped for a pedestrian.

Be alert and make eye contact with pedestrians

Crosswalks exist at any intersection, whether there are pavement markings or not

In the presence of a crossing guard, vehicles must wait for all persons including the guard to completely clear the road before proceeding

Enter and exit driveways and alleys carefully – just because you don't see someone behind you, doesn't mean they aren't there – especially children.

DO NOT drive distracted or impaired. With more people out on our streets, the consequences for distracted/impaired driving could have deadly consequences
Is the most dangerous time for pedestrians
Get out of your vehicle on the interstate
Call 911 and ask for the non-emergency line for vehicle assistance
Obey all signs and signals
Walk facing the direction of traffic
Drivers have a responsibility to watch for pedestrians
And not just at intersections and crosswalks. Stay alert around schools and busy community centers.
Always stop before the white line and proceed only when the roadway is clear.
Watch for cars and pedestrians when turning right into a crosswalk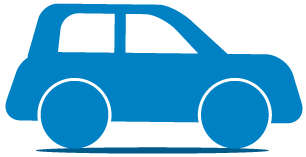 Be extra careful when driving in residential areas. Slow down in neighborhoods and watch out for children at play.
9 out of 10 pedestrians survive a crash
5 out of 10 pedestrians survive a crash
1 out of 10 pedestrians survive a crash